24 days of sashiko program in 2021
The registration for the program in 2021 is closed!
What is 24 days of sashiko program?
"24 days of sashiko" was held in November 2020 on SASHIKO.LAB's instagram feed. I posted one hitomezashi sashiko pattern a day for 24 days along with step-by-step instructions. It started from basic and simple patterns, and gradually moved on a higher level. As the days went by, the participants got to learn more complex patterns without even noticing. Last year, over 500 people from all over the world joined the program and enjoyed learning sashiko at their own pace.
The reason I made this program
It was a completely FREE program with only 3 conditions to join.
Follow @sashiko.lab on Instagram.
Follow the #24daysofsashiko tag so you won't miss the upcoming posts.
Tag @sashiko.lab and #24daysofsashiko when posting your sashiko works.
I made this program in 2020 when the whole world was facing covid pandemic in hope to brighten our lives with something creative. I was feeling down just like you were, I couldn't meet with people so I wanted to do something fun with people, something we can do at home. Therefore, this program is designed so that everyone can enjoy without special tools or materials.
That's why I suddenly announced to start this program, and started posting patterns everyday. As a result, over 500 people ended up joining this program and it was way beyond my imagination. I could connect with people from all over the world even from my room in lockdown.
How can I join?
This year, I decided to offer this program as a e-course with 24 emails directly coming into your email box so that you don't have to open Instagram and look for my post everyday.
It's scheduled to start on October 24th 2021 and ends on November 17th. To join from day1, register from the link below by October 23rd. Then you'll start receiving emails from October 24th.
What to prepare to join the program
This program is designed so that anyone can enjoy without any special tools or materials. I prepared 24 pieces of fabric because I was meant to make 24 mini bags as an advent calendar. You can also stitch all the patterns on a large piece of fabric as a sashiko pattern sampler. Making coasters or pin cushions would be great ideas, too. So basically you can use any fabric and threads from your fabric stash.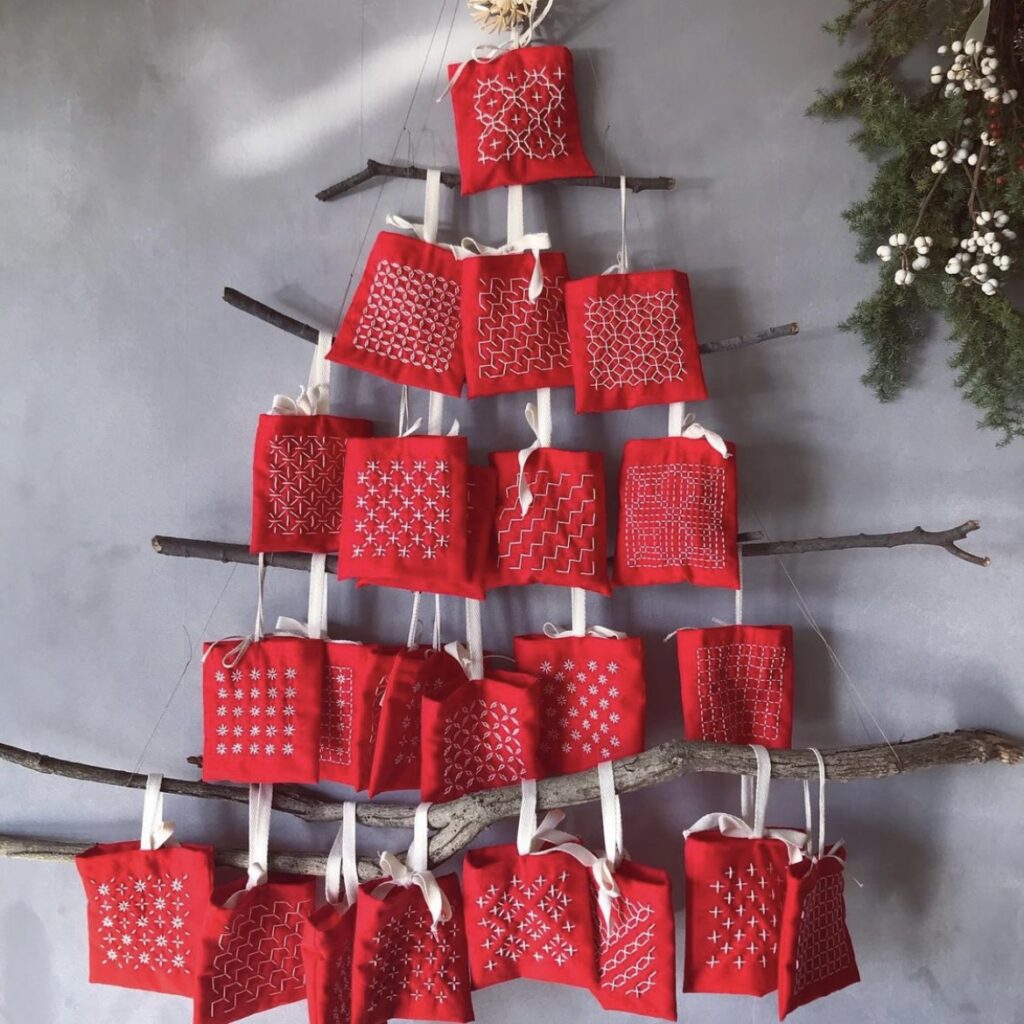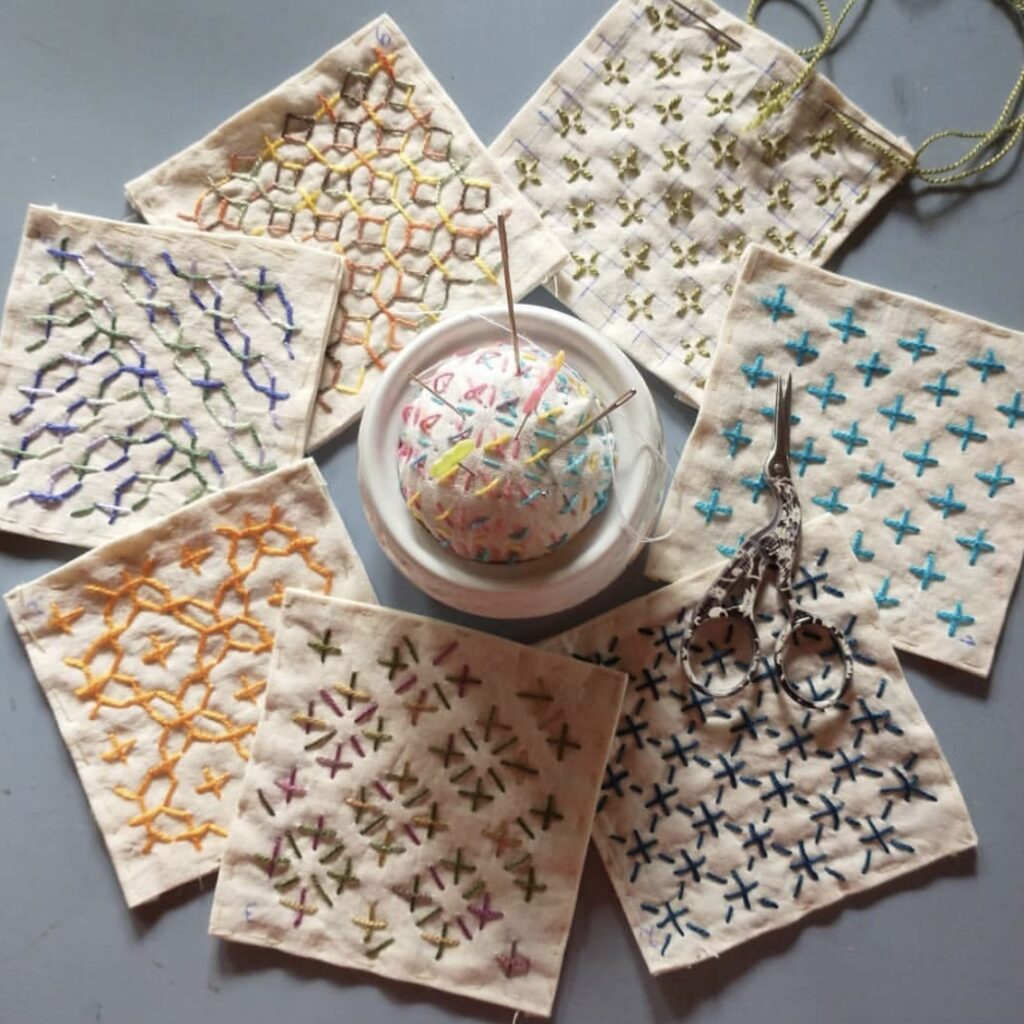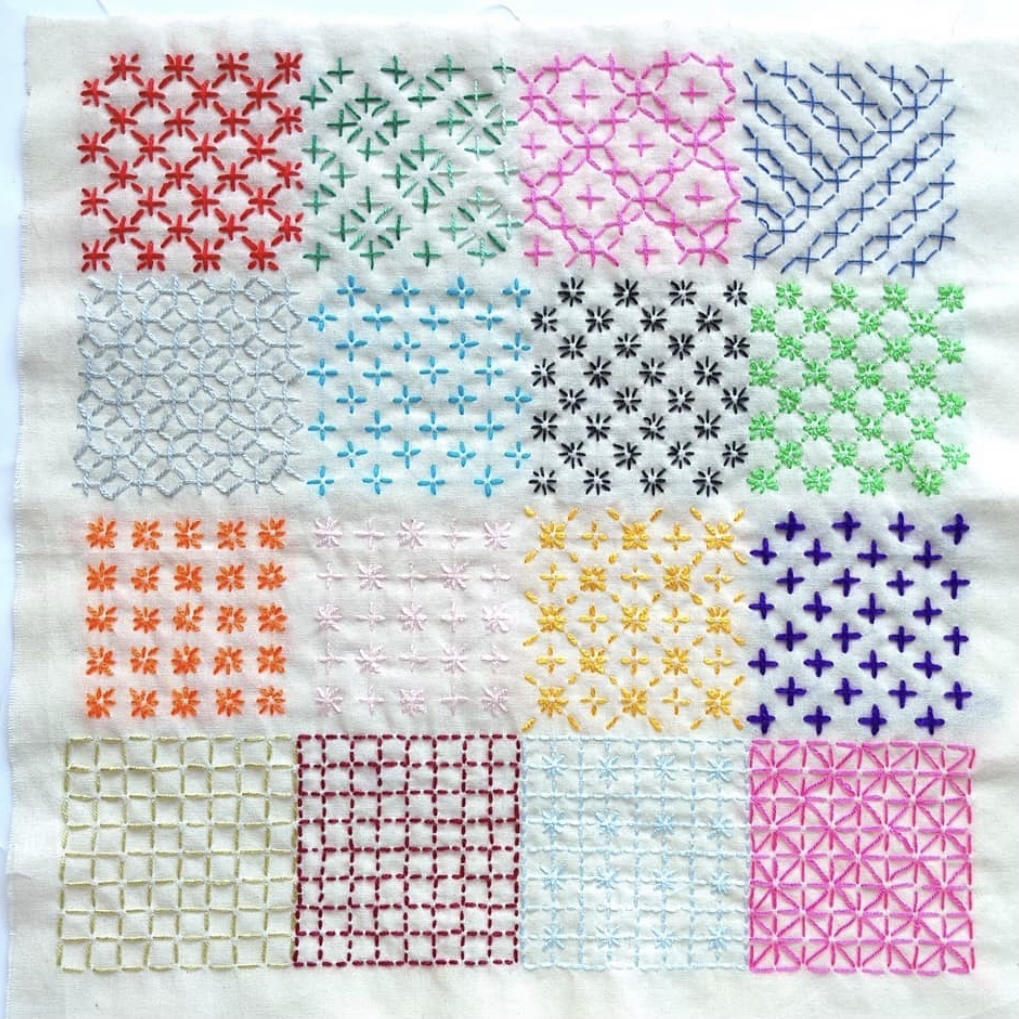 One thing you have to do in advance is to draw the grid. All 24 patterns will be based on this same grid. So I recommend you to draw the grid before the program starts. Otherwise, you have to draw the grid every day before stitching.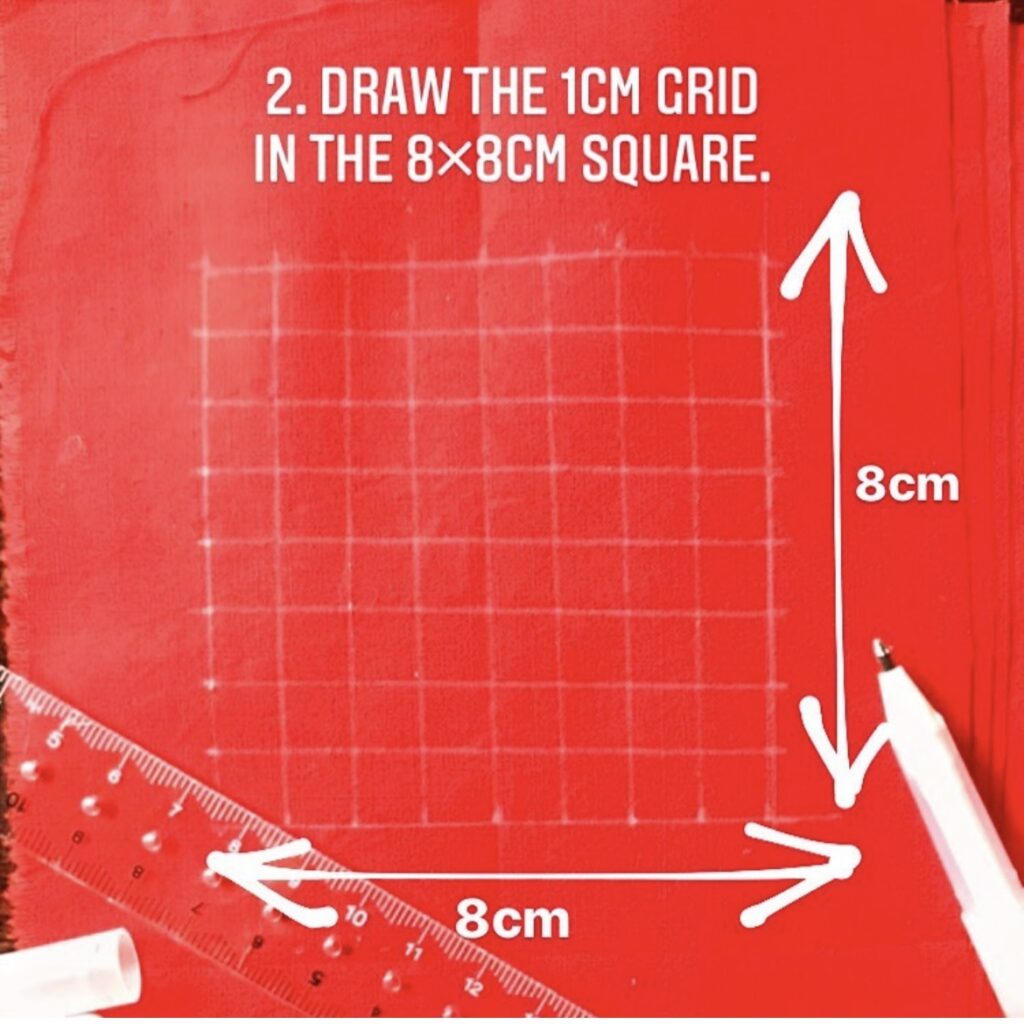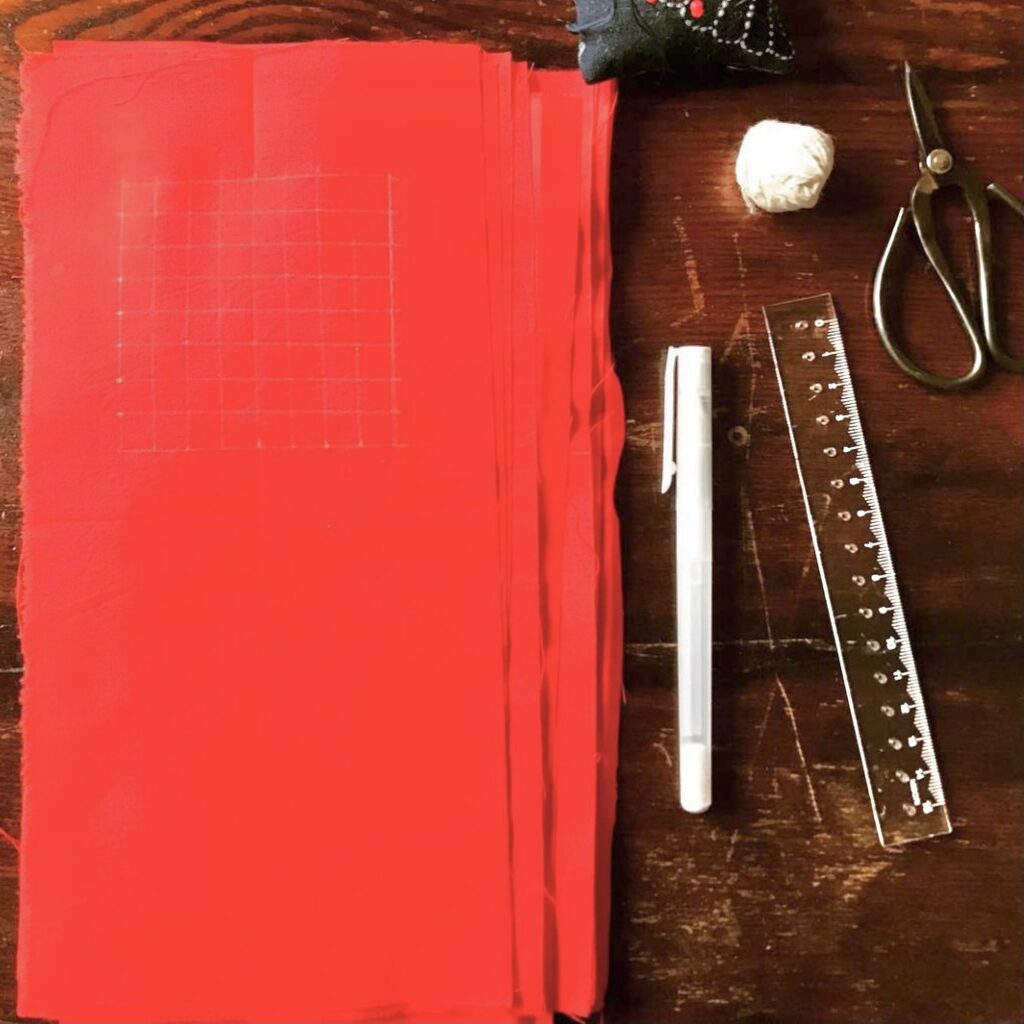 Another solution is to use the fabric with grid like dotted sashiko fabric. This is the dotted sashiko cloth from Olympus that you can buy in my online store. The dots are based on 5mm grid, so if you skip one each dot, you can use as 10mm grid, too. (And the dots will be washed away.)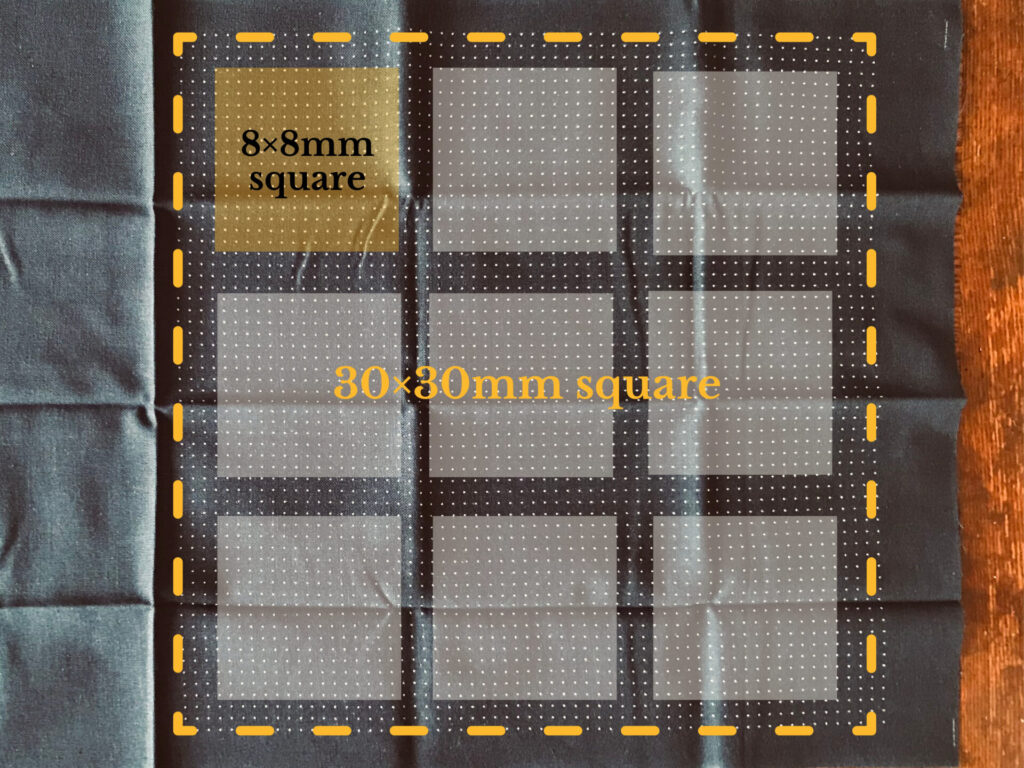 As you can see in the picture, the dots are printed only on half of the fabric since this cloth is supposed to double before stitching. To stitch all of 24 patterns using this dotted fabric, you'll need at least 3 pack of them. But again, you can use any fabrics you already have, so this is just one of the options.
What people say
"Thank you so much Kazue, for this wonderful project! During these days I not only learned different sashiko patterns. I also learned the important difference between sashiko and embroidery."

Heike @heirami_
Germany
I don't even know how to thanks to @sashiko.lab for giving us the opportunity to embrace this beautiful challenge!

Karin @megadistante
Brazil
I think I might be getting addicted to learning sashiko. Thank you @sashiko.lab for offering #24daysofsashiko. It's a wonderful way for relaxing and making something beautiful at the same time.

Maria @engeldrache
Germany
Loving this #sashiko challenge!!! Addicted! Literally, can't stop. Thank you @sashiko.lab for these #24daysofsashiko!!!

@natashakahnjewely
This is an invitation to open the door of sashiko world. Join us and get inspirations and mindfulness into your everyday life!